Current Volunteer Needs
We're in need of volunteers on Mondays, Wednesdays, and Fridays to help with our daily drive-up food distributions
Volunteers are needed from 9am-1pm PST for 3 or 4 hour shifts (depending on the volunteer role)
Volunteers will directly assist in one of three locations: warehouse, frontline, or office
If interested, please visit our website and complete a volunteer application
Have questions? Email rcfoodlocker@gmail.com 
Rancho Cordova Community Food Locker's new website
The Rancho Cordova Community Food Locker is the official USDA distribution site in Rancho Cordova. As of December2015, RCFL had served over 500,000 families, over 2 million individuals, and food for over 15.5 million meals. 
Our Grassroots Beginning
RCFL was founded in 1987 by a group of concerned citizens in Rancho Cordova who saw a real need for a local food locker. The group, headed by Walter Little and John Healey, included private citizens and representatives from the community's churches and civic organizations.  It set a goal to develop a "community based" food locker -- not a small project! Help from a number of people and many donations were needed. Over 300 interested people attended the informational meeting and more than 150 people volunteered to help. Generous people with great ideas pitched in to make RCFL a reality. St. John Vianney Church offered a 12' x 60' trailer, a walk in refrigeration unit, and use of the Church's property. Our box truck was donated and is maintained by the Cordova Kiwanis Club. Other donors and supporters too numerous to list here were also instrumental in RCFL's establishment and successful operation. 

On April 1, 1987, RCFL began operations and has served the community continuously ever since.  In the first year, over 1,500 individuals per month received emergency food supplies.  Staffed by dedicated volunteers and, with the help and donations from caring citizens and organizations in the local area, RCFL now provides food assistance to about 5,000 hungry people each month. As stocks permit, RCFL tries to provide each family with a 3-day emergency supply of food.  All this would have been impossible without our many selfless volunteers and generous donors. 
Our Need for Your Help
Volunteers are always needed, welcomed, and greatly appreciated! RCFL is a non-profit organization and, as such, is covered under the "Good Samaritan Act."  Those interested in volunteering should call RCFL at the number shown below. Many of the Rancho Cordova area's churches, civic organizations, businesses, and private citizens financially support the Food Locker. Funds are used not only for food and administration, but also for essential supplies (e.g., baby food and diapers) and  maintenance of the facilities. Every donation is very much appreciated, and critically important to helping the hungry within our local area.  Receipts for donations are provided.  Please consider a contribution to this extremely worthwhile community service ogranization.  For additional information, please call RCFL's Warehouse Manager, Mr. Tim Tachibana, at (916) 364-8973. 
Contact
Gary Greeson
ccflcharitygmail.com
---
 Food locker needs support – for its heavily-used box truck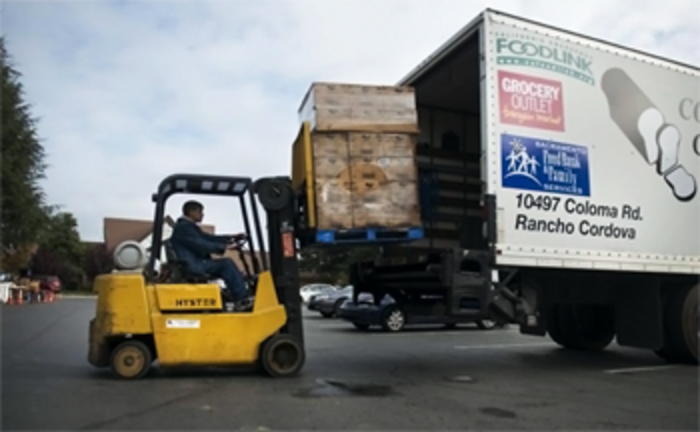 Rancho Cordova Community Food Locker's operations manager, Gregg Huestis, unloads donated food. The Food Locker is asking Book of Dreams readers to donate money to purchase a new truck bed. The current floor of its delivery truck is so worn that daylight can be seen between the boards in places and the boards are broken and bent. The Food Locker gives away 60 tons of donated food to those in need in their surrounding area. Autumn Payne
apayne@sacbee.com
By Lori Korleski Richardson
Special to The Bee
Editor's note: For nearly 30 years, The Sacramento Bee's Book of Dreams has helped people and organizations in our community realize their dreams.
Daylight. It's not something anyone wants to see at the bottom of a truck.
The huge white box truck that the Rancho Cordova Community Food Locker uses to pick up food donations for hungry people in the area is nothing fancy, but it gets the job done. Lately, though, notes Gary Greeson, a retired Air Force lieutenant colonel and food locker volunteer, "We can see daylight through the cracks" in the cargo compartment floor, which has "fractured in numerous places under the stress of heavy loads of palletized canned goods."
The truck was initially meant for transporting furniture, said the Rev. Walter Little, a Catholic deacon who co-founded the food locker with John Healey in 1987.
"Pallets of food are heavier, much heavier," he said. They had to weld on a steel plate near the back of the truck to be able to slide the pallets in, Little said.
The food locker has been running nonstop for almost 30 years. It provides an emergency supply of food, three days' worth, to needy families and individuals. Its clients include the elderly, homeless, immigrants, unemployed and working poor, and those who are physically challenged.
It is staffed by volunteers and distributes food three days a week from 9:30 a.m. to 1:30 p.m. People are asked for an address and can get another three days of food supplies once 30 days has passed.
"My son, the computer programmer, set up the program that keeps track of everyone. Even the homeless get some kind of address," Little said.
On the day before Thanksgiving, 200 food locker volunteers distributed 1,088 full turkey dinners.
"And then someone came by with 49 more turkeys that day, so we gave them to the recently housed homeless vets – everybody got turkey!" he said.
The food locker, an independent 501(c)(3) nonprofit, consists of some storage pods (the cargo trailer of the original delivery truck, donated by the Cordova Kiwanis, is one of the pods) and several heavy-duty freezers and refrigeration units next to a modified portable office building with a sturdy overhang and deck with stairs at both ends.
Clients receive food in the parking lot of St. John Vianney Parish on Coloma Road in Rancho Cordova.
"All this stuff was donated," Little said. "Of course, it took $14,000 to get the 20-ton food locker and two-unit freezer to work, but we got somebody to donate that, too."
The deacon stops by a large framed photo of Pope Francis and a proclamation below it.
"Two years ago, I wrote to the pope and told him that we had hit the 15 million meals mark. He sent back this apostolic blessing. I like to say that we may be the only internationally recognized food bank around."
Little said he loves putting on his public relations hat to drum up support for the food locker
What started out as a program to feed 1,500 a month now feeds 5,000 monthly. The food bank depends heavily on donations from individuals and the pickup of recurring food donations from Foodlink, Sacramento Food Bank & Family Services, and Grocery Outlet.
And the food bank is hopeful those pick-ups won't come crashing through the rickety floor before it can be replaced.
All Book of Dreams donations are tax-deductible, and none of the money received will be used for administrative costs.

Read more here: http://www.sacbee.com/entertainment/living/helping-others/book-of-dreams...