Parish Vocation Committee
St. John Vianney Vocation Committee exist to foster vocations to the priesthood and religious life, to guide and encourage our parish community in prayer and also assist in giving information about vocations, support and encourage promising candidates and re-direct them to our pastor or our Diocese Office of Vocation.
This is an excerpt from Bishop Jaime Soto's Strategic plan –
"Currently, there are 111 diocesan priests serving in active ministry in the diocese, of whom, 33 can retire within 5 years. The average age of diocesan priests in the Diocese of Sacramento is 51. The diocese will need to ordain an average of 7 seminarians a year in order to maintain a sufficient number of priests for parish assignments. In order to achieve that goal, it is necessary to recruit at least 10 candidates on a yearly basis."
How can we help to achieve that goal?  Prayer is the most important foundation of our work to promote Vocations.  We ask that you make vocations to the priesthood and religious life part of your private prayer every day.  Let us start by taking the Vocation Cross home.  Each month, a family host our Vocation Cross and pray for Vocation every night.  It is a short two-minute prayer.  The Vocation Cross sign-up sheet is by the Confessional (Food Locker parking side).  We have one Vocation Cross for each Mass.  Thank you for your prayer, Spanish Mass, as you have a waiting list in taking the Vocation Cross home!
Is God calling you to a religious life? Here is Pope John Paul II's advise:
"In the first place I say this: you must never think that you are alone in deciding your future! And second: when deciding your future, you must not decide for yourself alone!   Confidently open your most intimate aspirations to the love of Christ who waits for you in the Eucharist. You will receive the answer to all your worries and you will see with joy that the consistency of your life which he asks of you is the door to fulfill the noblest dreams of your youth.  The search and discovery of God's will for you is a deep and fascinating endeavor. Every vocation, every path to which Christ calls us, ultimately leads to fulfillment and happiness, because it leads to God, to sharing in God's own life."
If you are considering the religious life, or know anyone who is thinking about religious life, we have at least two Vocation Committee members in each Mass to assist you and make referrals to our Pastor, Fr. Giovanni Gamas. For more information, please call the Rectory office at 916-362-1385 or Gina Gonzalez at 916-749-8771.
Parish Vocation Committee Members
John Wallace                              Gina Gonzalez
Joanne Salindeho                       Irene Arganda
Emma Beza                                 Theresa Gamble
Flor Manela                                 Marilou Manela
Lilah Gonzalez                            Linda Magadia
Cristy Guiang                              Dave Gorospe
Rouselle Ekwall                          Ross Viray
JOIN US EVERY
LAST TUESDAY OF THE MONTH
@7PM  AT THE FIRESIDE ROOM
For more info contact Gina @ 
 916-749-8771
Discerning a Vocation?
Interested in information regarding discerning a vocation to priestly or religious life?
Check out some of these links:
Also, feel free to contact Father Raj through the parish office (916.362.1385), or our Parish Vocation Committee Coordinator, Gina Garcia (916.749.8771)
Vocation Cross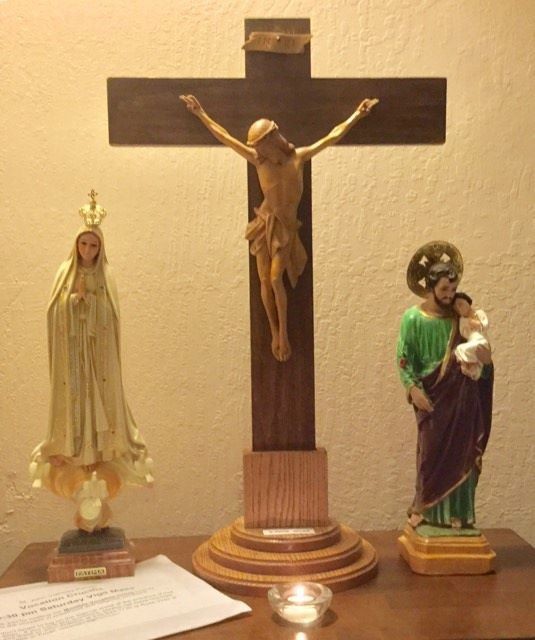 Fr. Jeremy Santos when he was still a seminarian ...
Women who chose to serve God