They will know we are Christians by our Love
Our mission is to raise awareness of pro-life issues among our parish community, to support all Life both prayerfully and materially according to our means, and to build a positive relationship and open dialogue with others on the sacredness of Life. 
We respect all life from conception to natural death.
Please contact, "Chris"-- email:  Respectlife@sjvparish.com
OR..call / text:  (916) 361-1340
Diocesan Plan -- Pro-Life Activites has four major areas:
Education & Formation
Pastoral Care
Prayer & Worship

Advocacy
Visit the Diocese of Sacramento here  

:  LEARN MORE
ALSO Visit Us on -- SJV RESPECT LIFE -- on facebook
Events
**************
St. John Vianney Parish has need of
a new Respect Life Ministry Leader
**************
NEWS ** NEWS ** NEWS
40 Days for Life will stay at FPA abortion business at
2322 Butano Drive...until September 22nd ...
Mondays / 9am to 3pm (late-term abortion consultation appointments)
.. AND
Tuesdays / 8am to 3pm (when surgical abortions are actually done)
IF volunteers praying, we can maintain a presence at Butano during
the Fall 40 Days For Life
**************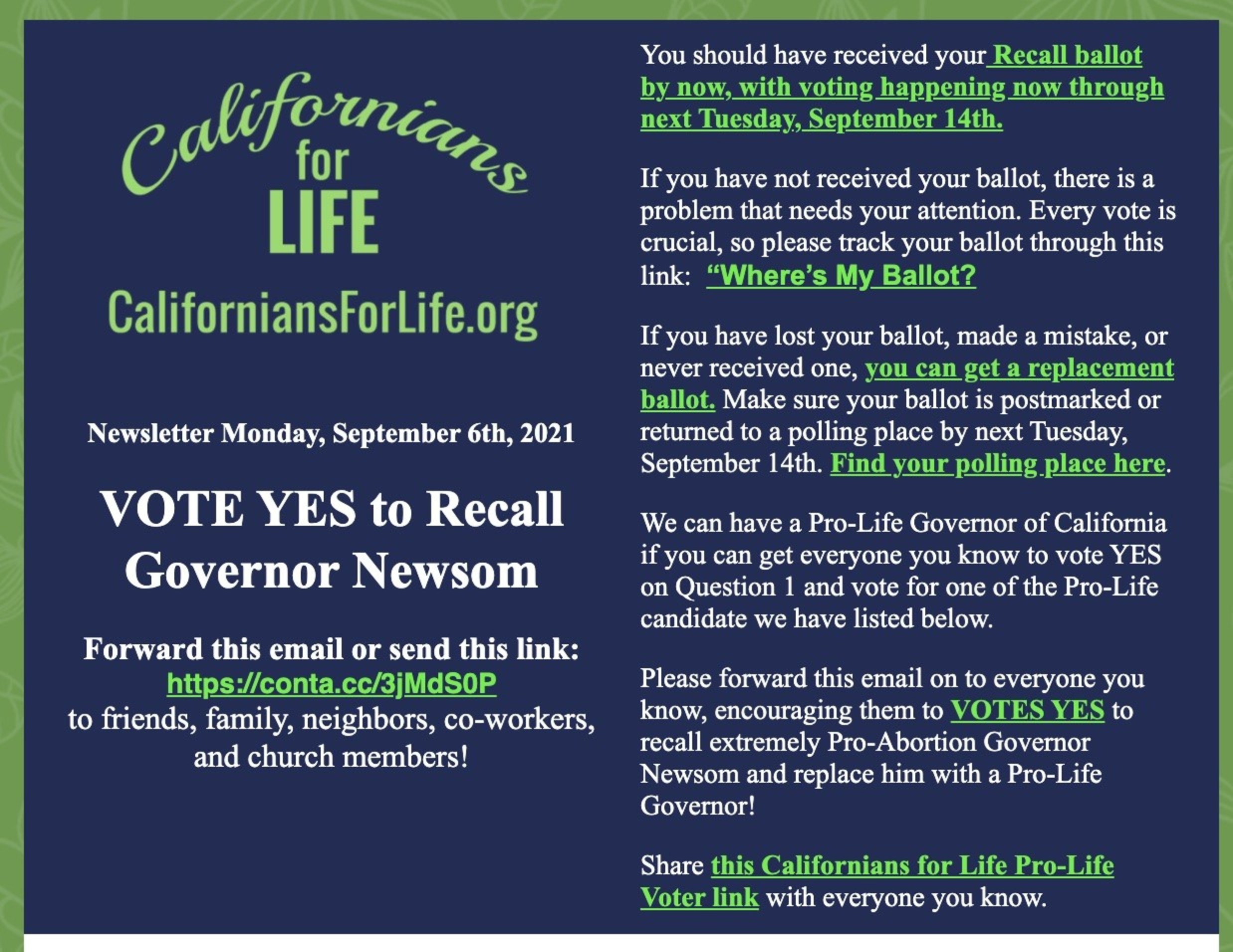 *****************
"Healing After Abortion"  
********************
SJV PARISH CONTACT:  Chris Bailey
EDUCATION & FORMATION
  Diocesan-wide conference held each August

  Pro-life speakers Or

Special events

to help

raise awareness on the sacredness of all

human life.
 Newsletters: Both the Diocese & parishes to provide regular pro-life updates

 Youth Events: Like the Annual Choose Life educational workshop for middle & high school students
PRAYER & WORSHIP
ADVOCACY
Public Policy Advocacy upholds that as Americans and as Catholics, we are committed to a system of law that preaches the most basic of all human rights: the right to life.
Catholic Legislative Network: 

Email network hosted by the California Bishops (USCCB) to inform and engage Catholics to be a voice for life and dignity in the legislative process.
Parish program to help pregnant women in crisis. Please call (800-910-0191) for more information 
Post Abortion Healing: Please call (916) 733-0161 for more information and for more upcoming events