Welcome to Your Youth Ministry
The SJV Youth Ministry welcomes all teens in high school.
Our Mission:
Create community based on faith, service, bonding, and friendship through our shared vision to build a better relationship with God within each other.
Meetings every Sunday after the 11:30 mass in the Unity Room.
Our Youth Minister
Join us today!
Join us in San Diego this year!
St. Patrick's Day Dinner
Planning Meeting
 Sunday, March 10
All youth are being called to attend this Sunday's meeting which will go over final details for the St. Patrick's Day Dinner. Discover your part and share your talents in making this dinner our most sucessful fundraiser yet!
Baked goodies needed!
As part of our efforts to raise money for our trip to Steubenville San Diego 2019 and our other ministry activities, the SJV Youth Ministry will be holding a dessert auction the night of the St. Patrick's Day Dinner. We need a LUCRATIVE spread of baked goods to entice our tables to bid high for their place in line to get the best desserts. If you'd be willing to donate a delicious treat (homemade or store bought), please contact Samantha at (510) 375-5149 and let her know what you would like to offer.
Steubenville San Diego 2018
We're here and We're Active!
St. Patrick's Day Dinner, March 16th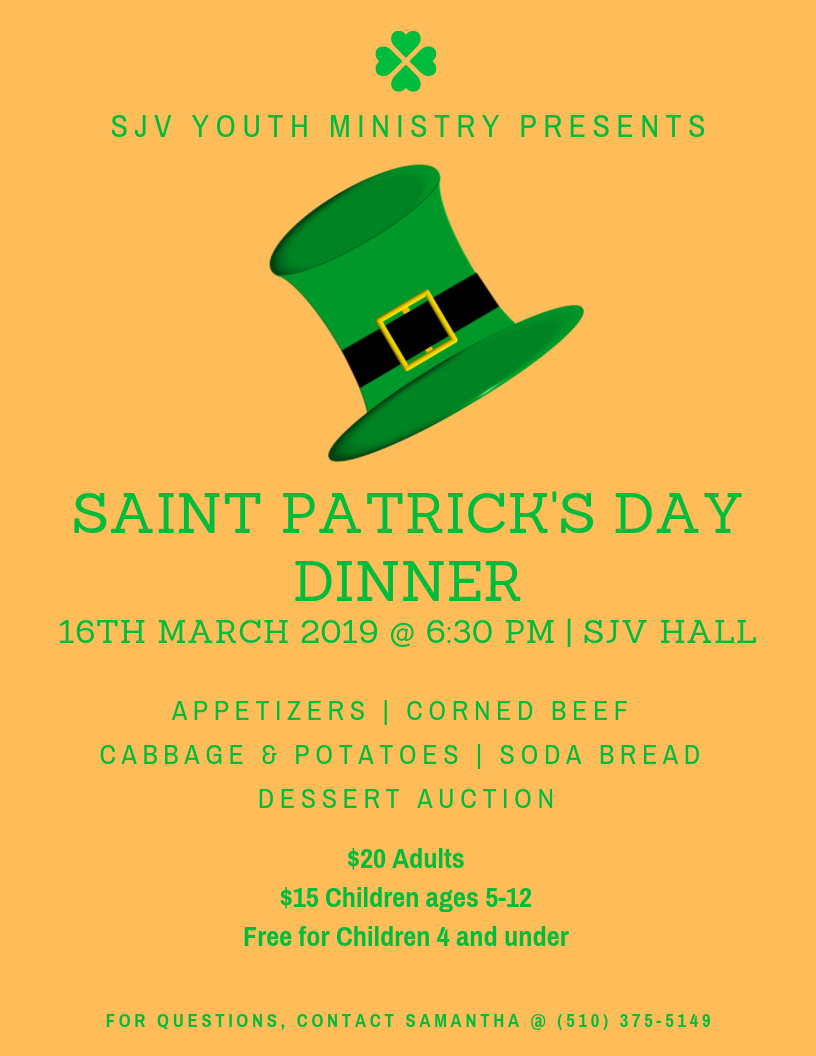 St. Patrick's Day Dinner Reservation Form
Check us out Anytime!